Yashiro Nene Cosplay Review From Toilet-Bound Hanako-kun
Posted on June 16 2020
Today I bring you a review of Yashiro Nene cosplay costume and wig from CosplayClans!
 I am very happy to cooperate with CosplayClans, this is a very interesting and humorous seller, I like the seller. I will introduce my actual use of the product.
Wig:
The length of the wig is about 80cm/31.2inch, It has enough length to allow you to trim according to your height and preferences. The wigs are made of synthetic high temp fiber materials, it has very good quality and lots of hair.
The color of the wig is almost the same as the Yashiro Nene cosplay wigs, it feels smooth to the touch and without any rough feeling. The wig already comes with it hairstyle done! So it doesn't have much difficulty when styling your wig. And it has an internal adjustment buckle, which can be well adapted to different head circumferences. So when I put it on, it fits firmly on my head,when I was walking, there was no looseness.Oh! There is also a free wig cap in the package from the seller.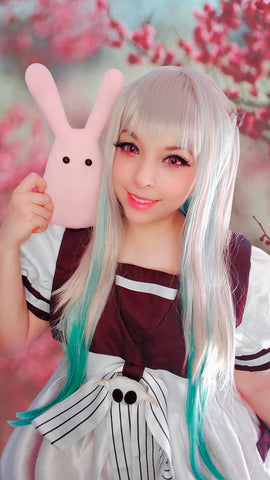 Cosplayer: @ari_b_rabbit (ins)
When I received the package, it was intact and when I opened it, the suit was well protected. The suit restores the style of the Yashiro Nene clothes in terms of color and details.The set includes a skirt, headdress and socks. The patterns and colors on the skirt are well restored.When I put it on, the size fits well.But the fabric feels a bit hard and wrinkles a lot and they are inconvenient when taking photos or wearing cosplay. However, compared to its price, it is still very cost-effective.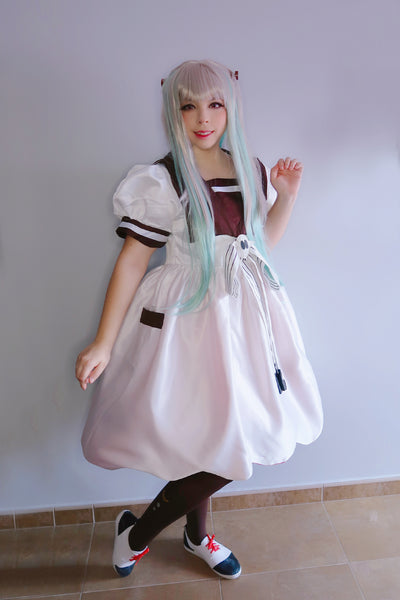 Cosplayer: @ari_b_rabbit (ins)
 In conclusion the Yashiro Nene cosplay costume and wig are very beautiful and I am very happy with it and the CosplayClans service!
Cosplayer Show: