Collaboration with Cosplayclans: LOL KDA ALL OUT Evelynn Cosplay Review
Posted on January 12 2021
Hi there!
Here we are in a new review, with a new brand and a different kind of cosplay. This time we are making the review of Evelynn All Out cosplay from CosplayClans (Wig and props included )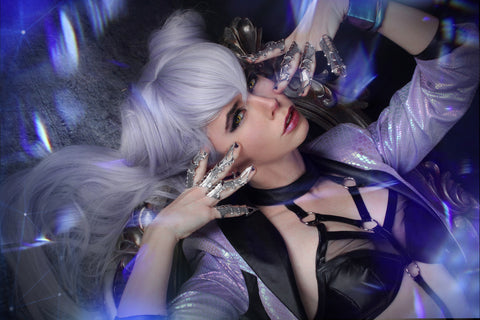 This Evelynn cosplay is made in many parts! It includes the jacket, top, skirt, earrings, bracelets, leggings (the stripes) and stockings. The whips//tails are not included but they send a fantastic wig and the finger props. Most of them made of false leather, spandex and polyester, perfectly sewed with very strong seams.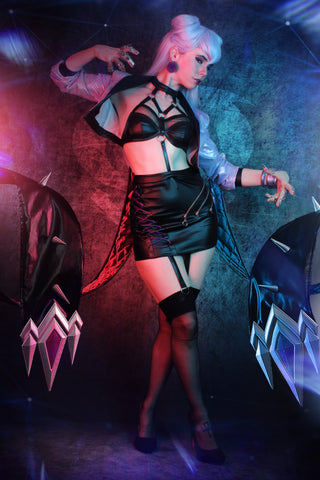 @florenciasofen
This time, I asked for the S and it was the perfect choice. It fitted amazing with the skirt and it was almost perfect on the top and jacket. I take a pin on the top cause my back is a little small but looked amazing. The brazalets, earrings and the socks stripes were also very accurate, easy to wear and match perfectly with the whole costume.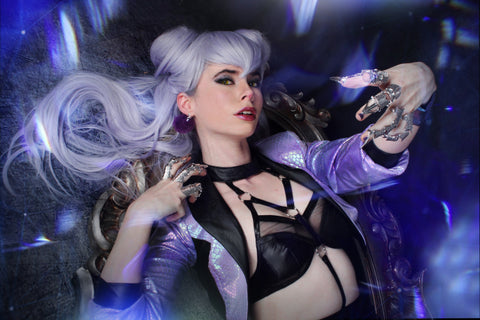 The Evelynn wig was veeeery fluffy! It's soft and full of hair. It is made of the latest matte high-temperature materials and the color is exactly the concept have and they make two curls with pins to add it on the top. It makes easier styling the hair and get the best results! The base is big enough to wear it with a lot of hair down (Head Circumference about 22.5"-24.5")
After using it, if you are thinking on washing it, hand wash in cold water and hang to dry. It's that simple!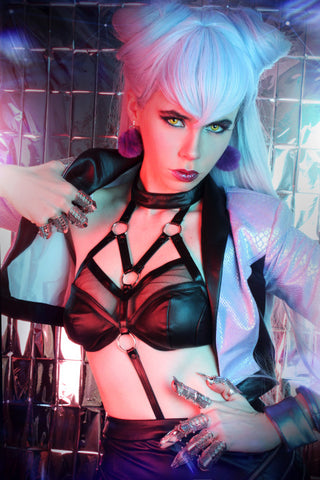 @florenciasofen
The claws are also great, you can adapt the size and lenght cause each part (made of metal) is individual. Great point! Everything is easy to wear and very confortable.

The mix of textures and fabrics match very cool and they get very well the whole look of the design. If you need a custom size, it's also avaliable.